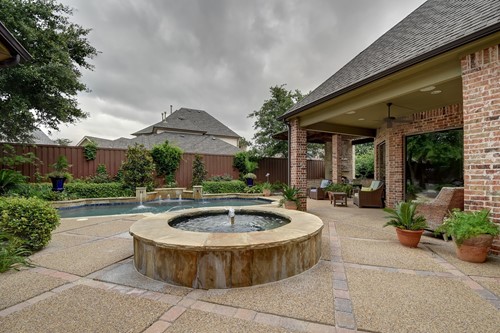 What makes you happy? Do you love to sit and read? Or are you more of a hang-out-with-friends kind of homeowner? Regardless of what moves you, there's a way to create space for it in your own backyard. Even better -- you can increase your home's resale value in the process. Use these tips to inspire you:
Plant a Perennial Garden
Perennial gardens are low-maintenance, especially if you use plants such as purple coneflower or coreopsis that began life as hardy, native wildflowers. Plant once, and you'll enjoy blooms for years to come. And if you plant according to bloom-times, you can have flowers right up to frost. This option will scent the air beautifully, too. It may even help repel flies and mosquitos. The prettiest gardens combine plants with other features, such mulched walkways or small ponds filled with hardy goldfish, paradise fish or white cloud mountain minnows.
Add a Hardscape
Hardscapes are the manmade features that complement your landscaping. They include rock walls, paved walkways, stone benches, concrete steps and more. All Hardscapes add elegance to your outdoor getaway, but they can also be functional by adding extra seating for guests.
Provide Shade
Mature, well-positioned shade trees such as maple or magnolia are always a selling point for future buyers. They can actually increase your home's resale value as much as 19 percent, says HGTV. So consider planting one or two if you have vast expanses of shadeless backyard. Position them away from foundations, wells and septic tanks so roots won't damage anything costly. Additionally, don't plant them where they will someday block the view to your home's entrance. And when you need immediate shade for yourself, consider adding a pretty pergola, arbor or gazebo.
Consider Fencing
Fencing is another home improvement that will send property values soaring. Metal and stone top the list of fencing materials that provide the biggest ROI, but they're also pretty costly to construct. If budget is a concern, consider blending the two into a fence that features occasional stone pillars or posts, joined by metal sections of fencing.
Add Comfort
Most importantly, your outdoor getaway needs to provide a comfortable space for family and friends to congregate. This means investing in some nice-quality outdoor furniture such as chairs, sofas, and love seats to help everyone settle in. Purchase furniture that's made from materials easy to maintain, such as synthetic wicker, teak, concrete, stainless steel or aluminum. For upholstery, buy fade-resistant and waterproof fabrics.
Additional tweaks to make your outdoor getaway more enjoyable include string lights, fire pits, an outdoor kitchen, a bubbling fountain, and outdoor art pieces made of mosaic tiles or driftwood sculptures. Whatever makes you happy, whatever inspires you -- these are the most important elements to include in your new backyard oasis.